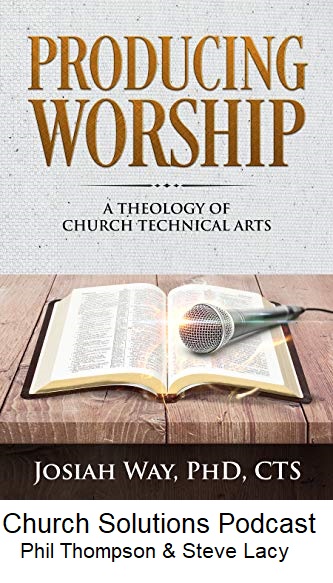 The Church Solutions Podcast (Click on the image to the left to listen or here)
The Church Solutions Podcast guest is Joe Way, Author of the book, Producing Worship – A Theology of Church Technical Arts
Joe talks with Phil Thompson and Steve Lacy about his new book.
Chapter's in Joe's book are:
1. Setting the Stage
2. How Did We Get Here? Where Exactly Are We?
3. Exodus 35:30–36:1: Bezalel, an OT Technical Arts Model
4. Hebrews 2:12–13: Jesus and the Technical Artists' Parallel Role as Mediators of Church Worship
5. Colossians 3:16: The Use of Multimedium "Psalms, Hymns, and Spiritual Songs" to Teach and Admonish One Another
6. Conclusion: "Producing Worship": A Theology of Church Technical Arts
Josiah Way, is the Director of Multimedia Services at California Baptist University in Riverside, CA, and serves as the campus Technical Director at Saddleback Church Aliso Viejo.
He has 25 years' experience in pro-AV, working in live AV production, TV, film, studio recording, sports, theatre, and church tech,
PhD in Modern Theology from the University of Birmingham UK,
Master's in Applied Biblical Studies from Moody Theological Seminary,
Bachelor's in Philosophy from the University of Southern California,
CTS Certification from AVIXA. Joe serves on multiple boards in both higher education and pro-AV industries, and speaks and consults regularly worldwide.
He and his wife, Amy, reside in Lake Forest, CA, and have three children between them
Theological framework for understanding and using technology in worship – Dr. James Spencer – The Moody Center
Technology has always been used since the time of Jesus – Greg Baker, Tech director from Saddleback Church
Go to JosiahWay.com for more info